About Us
Flavour that is carried through generations
---
A delightful evening snack is the perfect accompaniment for memorable moments spent with your loved ones. Mittai Kadai has spiced up such lovely moments with mouth-watering delicacies which are relished for over generations with the same authenticity and flavour for all the years.
Mittai Kadai dates back to over a century in delivering unforgettable flavours with their authentic sweet and savoury treats. In 1914, M.S Shanmuganadar began a small sweet shop in a quaint little town of Sattur in Virudhunagar District in Tamil Nadu, India. The uniquely flavoured and wonderfully textured sweet and savouries started attracting customers from all around and in no time became an identity for the Sattur town. Our star item that took our identity across the globe over the years was our Kara Sevu/Sev. It is a right blend of spices with a delightful crunch that will leave you wanting for more!
Mittai Kadai is currently run by the fourth-generation entrepreneurs who have successfully carried the legacy of the brand over the years. The recipes used in preparing the popular sweets and snacks are handed down generation after generation. The recipes are carefully followed to the dot to maintain consistency in the taste and texture of the treats. Our staff are personally trained to make sure the process is completely authentic and with yesteryear finesse. To keep the flavours and aroma top notch we take extra care in sourcing quality ingredients with no compromise.
We are certified by the FSSAI (Food Safety and Standards of India) and we meticulously follow their standards to ensure hygienic and high-quality products to our customers. Being the pioneers in manufacturing authentic sweets and snacks we have doubled our food safety and quality standards to assure the best for our varied customers including corporates, events and retailers.
Why Us
---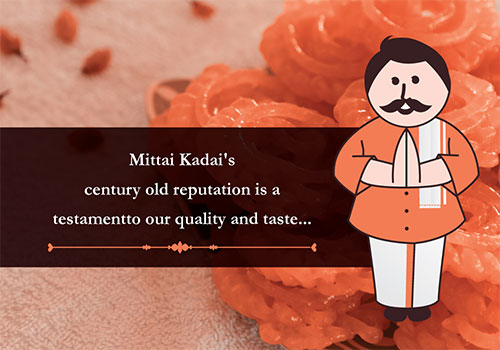 Mittai Kadai's century old reputation is a testament to our quality and taste. Our flavours and standards have given us a unique identity in the food map of the country. With such legacies in place, Mittai Kadai promises the best in every way plausible. Few irresistible qualities of Mittai Kadai include
A century old tradition for your palate
Original recipe personally handed down over 100 years
Unbelievably consistent in taste and texture
Accredited by FSSAI to assure quality
High quality ingredients and traditional preparation methods
Stocks are freshly made every day, packed and distributed for increased flavour and shelf life
Quality Assurance
---
The handpicked recipes have been handed down generation to generation, in order to retain the exclusive taste, texture and aroma of our unbelievable range. Our staff is personally trained in preparation of sweets and personal hygiene.
Quality and taste are our benchmarks when it comes to production of our sweets and savouries. Right from sourcing high quality ingredients to training the staff with personal and kitchen hygiene we are vigilant in every step of our manufacturing to ensure you get an uncompromised high quality and highly tasty sweet and savoury treats of all time!
Our kitchen is immaculately maintained by our staff to ensure healthy and quality products are prepared. With fresh oil used every day, Mittai Kadai is the only large manufacturer who use a mix of refined and pure cold pressed groundnut oil in preparation of sweets.
The quality of the oil adds to the flavour and texture of our products. The lightness of our snacks prepared with such quality ingredients makes sure that our customers come back for more. Our strict adherence to FSSAI standards, production efficiency and quality checks makes sure your snacking time is a bliss you look forward to!